F3 Movie Review
F3 Movie Review
F2 is a Blockbuster movie which released in 2019 in Sankrantri Season. Venkatesh and Varun tej are the key actors who pulled the movie to become more Successful. The story is more relatable to the audience and this makes the movie more successful.
Let's check the storyline before diving into the F3 Movie Review. F2 Story is all about the frustrated men who do not understand the love of their wives and think they are in a torcher. But the thing is though it looks like wives are the persons who are taking all the responsibility on their shoulders. 
And this F3 movie is the Sequel to F2 which concentrates on MONEY. So, let's see how the movie and story, review, and rating are. 
Story: Venky (Venkatesh) and Varun Yadav (Varun Tej) are customary folks with conventional lives. Their battle is about cash. One day they catch wind of a rich industrialist in Vijayanagaram who is searching for his main successor. What happens when Venky, Varun, and the pack show up close to home professing to be his successor is the film's fundamental plot.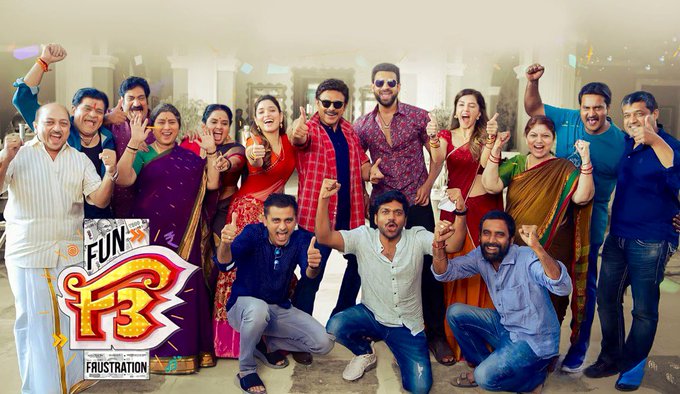 Analysis: Fun first half and frustrating second half … But families and masses will surely gonna enjoy it as they want some entertainment film… There is no Perfect logic to managing the Story… Venky mama's Performance is very good as usual … Varun has a great role and he did very well.
Though there isn't a perfect story this movie has Good glamour content and songs are good on screen. Sunil's character and acting are excellent. We can see vintage Sunil. Raghubabu is also very good. Clueless scenes in the second half, Rushed and messed up climax. Forced parody episodes.
The background music which is composed by Devi Sri Prasad helped the movie a lot and sometimes it looks dragged. The songs are Picturized very well. Pooja hedge in an item song is good. Mehreen has a small role in which she did some over than casual. Tamannah is good. 
The connection between F2 and F3 seems illogical but you can watch this movie to enjoy just to Enjoy. As promised, there will be good comedy scenes and the timing between Venkatesh Garu and Varun tej had really worked out very well. 
Rating: 2.75